Yesterday evening the High Street Kensington branch of Waterstones was the host of the Princess Olga, A Wild and Barefoot Romanov launch party. The event was superbly organised by Charlotte Ellis PR and Literary Agent. She had organised some high quality sponsors* (see below for details) which helped the party go with a swing. On arrival, the guests were met by Peter Stewart, our Cossack for the evening, who offered some Imperial protection. Throughout the evening Prosecco and Ivan the Terrible vodka were available (and were readily consumed by all!) and could be accompanied by caviar or chocolates, served on elegant silver platters.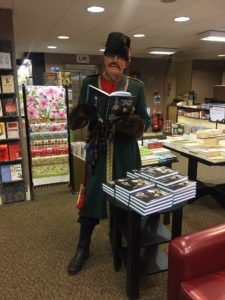 Princess Olga was kept well occupied both before the event began, and throughout the evening, signing copies of the book for all present. We were delighted by how many of the guests went home with a signed copy. We hope they enjoy what is surely a highly entertaining read.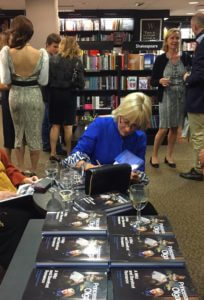 Speeches were given by Charlotte Ellis (PR), Princess Olga, Andrew Werner (Publisher) and Juan Henri Tamenne from the Culture Consul, who travelled from Monaco for the evening to honour Princess Olga for her role in bringing peace between the nations of Russia and Japan. Another well travelled guest was Satoru Iwata, a representative from the Japanese Publisher Toyo Shoten, who will be republishing Olga's book in Japanese in April 2018. We were delighted that people travelled far and wide to be with us.
Below is an extract from the book being read by Andrew Werner, from Shepheard-Walwyn publishers.
So, in summary, thanks to all who made this such an enjoyable evening for all. In particular our *sponsors:
Petrossian Caviar, available from Harrods served beautifully in the luxury silverware brand Christofle,
Jeff de Bruges chocolates, served on Christofle silver trays
Prosecco provided by Ljubinka Uljrevich
The New Muscowy Company who provided Ivan The Terrible vodka for a genuine Russian touch and
The official photographer James Scrymgeour.
And don't forget, if you haven't already done so, you can order your copy of Princess Olga, A Wild and Barefoot Romanov by Olga Romanoff with Coryne Hall from our website.