Once again, this year we will have a bookstall at the Craft in Focus fairs. Come and visit us and enjoy a day out.
On display at the Shepheard-Walwyn stall will be a full range of gift and keepsake books. Don't miss the opportunity to see our calligrapher, Rosemary Grossman in action. Her calligraphy prints will also be on sale.
The first event is at RHS Wisley from 30 April – 4 May 2015. This will be a delightful time of year to explore the gardens. The show takes place in marquees with a number of contemporary crafts being Wisley Craft Fair 2demonstrated. Tickets are available on entry to the show.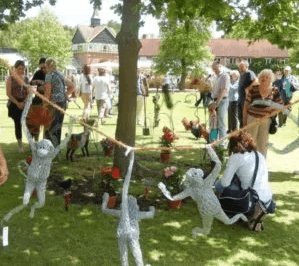 Later in the year we will have a similar stall at the event at Sevenoaks School on 23-25 October 2015. This is an indoor show and again, tickets (priced just £3.50) are available on the door. We look forward to welcoming you!