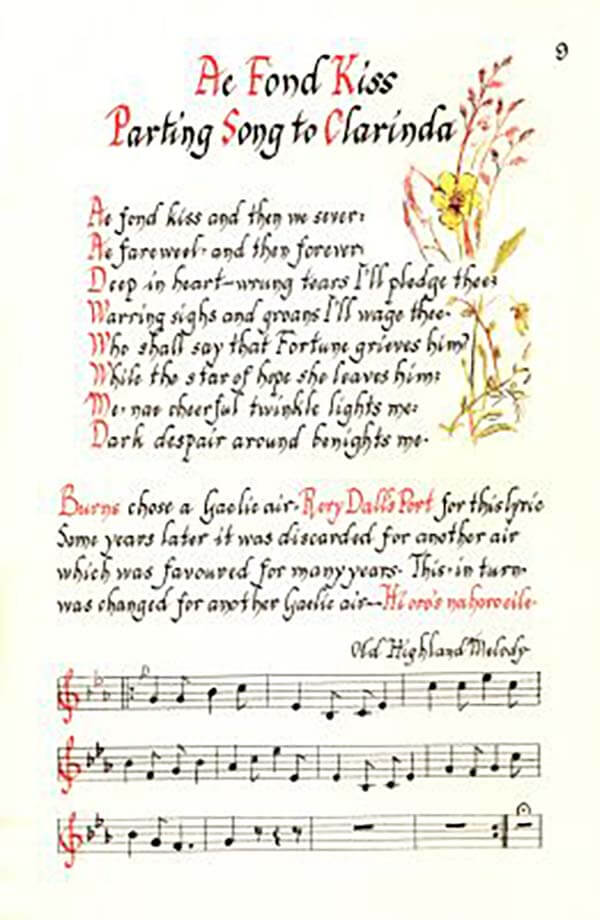 25th January is Burns Night, the day in which the National Bard of Scotland, Robert Burns, is celebrated with supper, conviviality and poetry. It seemed appropriate at this time to focus this blog post on one of our classic titles, Twenty Most Favourite Songs of Burns beautifully scribed and illustrated by Andrew Winton. This volume takes the songs of Burns and presents them alongside the music, illustrated with watercolours. The words are written in beautiful calligraphy.
There is an uncanny resemblance about the way Burns went about composing his songs and the manner in which Andrew Winton was inspired to present his book. In a letter, Burns talk about the approach he took to setting verse to music while working on a book of Select Scottish Airs with the recipient: "Until I am compleat master of a tune, in my own singing (such as it is) I can never compose for it. My way is – I consider the poetic Sentiment correspondent to my idea of the musical expression; then chuse my theme; begin one Stanza;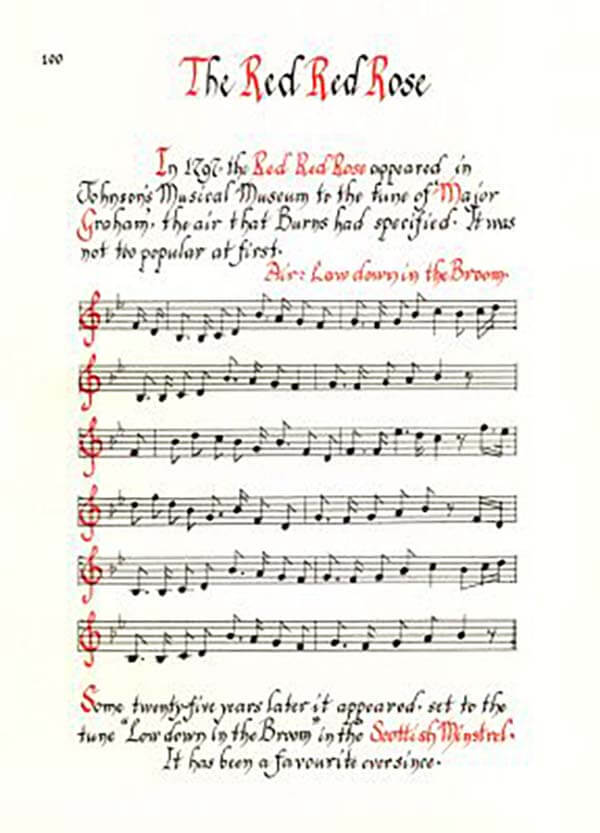 when that is composed, which is generally the most difficult part of the business, I walk out, sit down now and then, look out for objects in Nature around me that are in unison or harmony with the cogitations of my fancy and workings of my bosom; humming every now and then the air with the verses I have framed; when I feel my Muse beginning to jade, I retire to the solitary fireside of my study and there commit my effusions to paper; swinging at intervals on the hind legs of my elbow-chair by way of calling forth my own critical strictures as my pen goes. Seriously this at home is almost invariably my way."
An extract from a letter to George Thomson, September 1793, from the introduction of Twenty Most Favourite Songs of Burns.
In the book's introduction, Andrew Winton introduces us to another partner with whom Burns joined music and song. "James Johnson… had little or no education but had decided to try to collect the words and music of all existing Scots Songs. When he met Burns, he had published one volume of his Scots Musical Museum. Burns promised to help him and began with great enthusiasm to put words to airs and to re-write some of the indelicate rhymes which were being sung at that time … The Musical Museum is probably the most important collection of Scots songs ever made."
Songs from Burns' collaborations with Johnson and with Thompson can be found in Andrew Winton's illustrated book.
If you are a Scotophile you may also be interested in these titles: